Raf, 2021, 48cm x 30cm, hand stitched fabric texture on digital photography
The Knave, 2021, 48cm x 30cm, hand stitch on digital photography
Boo, series, 2020, each piece 18cm x 22cm unframed, (28cm x 33 cm framed), handstitched digital photography, archival print on Bockingford enhanced paper, stitched to Somerset Satin White 250g paper.
Boo is one of a number of photo series in which my body is combined with simple objects to produce ambiguous forms and images. This series evokes associations from dance and play to hiding and concealment. The stitches create new shapes and outlines that contrast with the textures of the exposed legs, the creased sheet or the flaking wall. Although the sewn shapes enclose the figure, they also suggest auras, or even force fields, the possibility of something powerful under the sheet.
Works from this series were exhibited in 2020 at London Grads Now, Saatchi Gallery, London SW3 and Emergent Visions, Safehouse Gallery, London SE15.
They can currently be seen at Kovetdotart in The Art Vault until May 2021

https://www.kovet.art/the-art-vault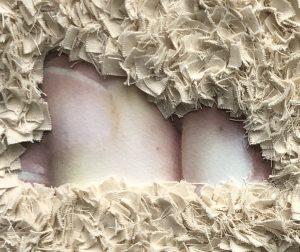 Untitled (fingerface), 2020, 30cm x 48cm, hand stitched cotton texture on digital photography.
In this piece the 'face' is made up of two photographs so that the image is already impossible, absurd, stretched and misshapen. Over this are hundreds of tiny squares of cotton fabric, each one sewn on with a single stitch to create a densely constructed layer. The imperfections of the flesh are clear, the pressing fingers and the creeping texture emphasize and frame the wrinkles and creases.
Cipher, series, 2019, each image 27cm x 20cm, digital c-type print
Transitional Objects, 2020, wood, calico and thread, each object about 5cm x 5cm x 8cm.
Exhibited in My House is an Island, Arthaushouse, 2020
Created during lockdown, this group of tiny sculptures can be presented in a variety of ways. Their scale is intimate, they can be touched and moved, arranged and rearranged, played with like toys or held for comfort.
Dancer, 2020, series, 
each image 25cm x 18cm,
In the series Dancer I adopt the poses from a book about contemporary choreography. These images explore the blurred edges between pretence and performance, pretending to be a dancer or performing being a dancer. At the same time the reality of the situation remains in full view, a woman who is not a dancer, concentrating, sincere, a private moment of wish fulfillment and homage which despite her introspection, invites the viewer into a very intimate space.
Untitled (red circle), 2019, series of 4, each print 60cm x 60cm, archival digital print
a key aspect of these series is our skin as a surface which absorbs and retains our experiences and how these experiences will emerge whether we like it or not. The tape attempts to conceal, but it cannot.
Honestly, 2019, series of 5, each print 60cm x 60cm, archival digital print
Installation images from all the things I cannot say, hARTslane Gallery, 2019